In The Media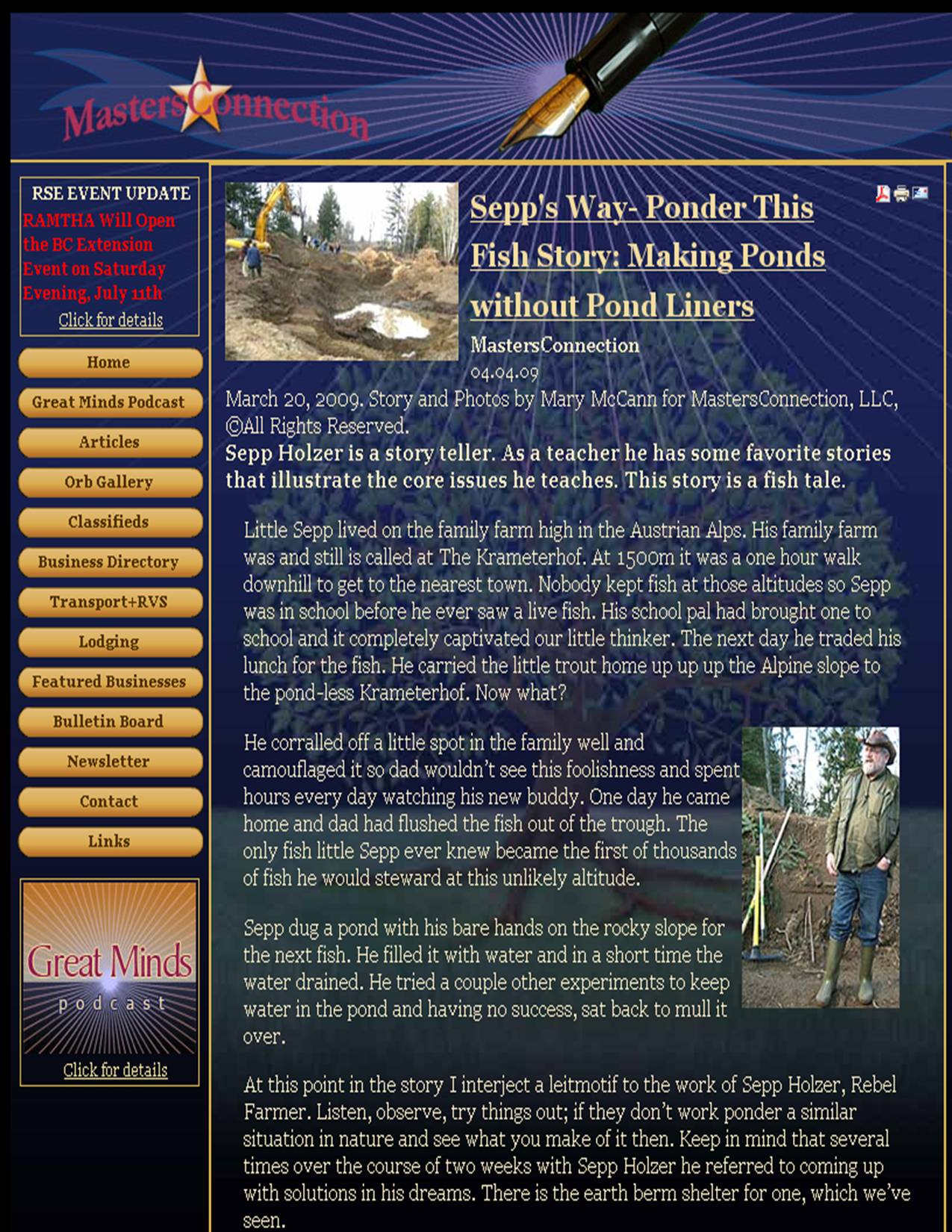 From time to time, we have the pleasure of hosting members of the press and are pleased to subsequently provide our website visitors links to those articles or interviews.
New Masters Connection Article Feb 2010
Sepp was very pleased with this article - Complimenting Mary McCann during one of the classes on her ability to completly nail the subject - Thank you Mary!! Follow the link below for the entire article.
www.mastersconnection.com/index.php/great-minds/602-seppfeb2010
Secrets of Eden Tour - March 2009 - The Masters Connection
1. Huegelbeds, Mushrooms and Companion Planting Workshop
http://www.mastersconnection.com/index.php/articles/279-pdfprinte-mail-permaculture-workshops-huegelbeds-mushrooms-companion-planting-workshop-day-one
2. Huegelbeds Continued...
http://www.mastersconnection.com/index.php/articles/282-sepp-holzer-workshop-part-3-huegelbeds-continued-
3. Earth Berm Animal Shelters
http://www.mastersconnection.com/index.php/articles/290-the-rebel-part-explored-and-earth-berm-animal-shelters
4. Brambles as Natural Chicken Coop and more
http://www.mastersconnection.com/index.php/articles/298-sepp-qthis-is-not-a-blackberry-brambleq
5. Making Fish Ponds Without Pond Liners
http://www.mastersconnection.com/index.php/articles/309-ponder-this-fi
Super Consciousness Magazine Article
http://www.krameterhof.at/bilder/presse/usa_ISSUE_02.jpg
http://www.krameterhof.at/bilder/presse/usa_ISSUE_03.jpg
http://www.krameterhof.at/bilder/presse/usa_ISSUE_04.jpg