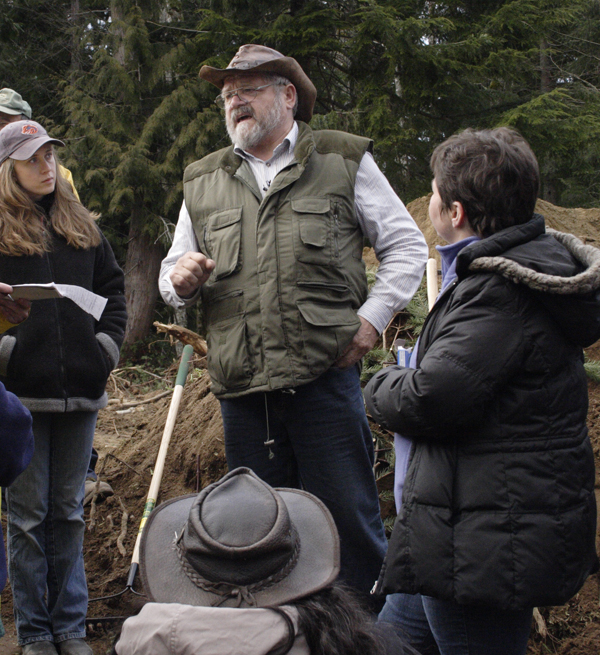 Please feel free to email us if you would like to be placed on the list for his next visit.
Sepp has offered to conduct consultations via email. His basic requirements are similar to those listed below with the addition of your areas average rainfall, and the contour map should have your dreams sketched in on it. Email Sepp at office@krameterhof.at Inquiries already translated into German will receive a faster response. Sepp will let you know on a case by case basis how much he will charge for this service.
Please email a general request to be placed on the consultation list to info@perma-dise.com.
When scheduling Sepp's visit to the sites, we will take into consideration the order in which we recieve the requests, the grouping of the location, and the amount of informaiton received in a timely fashion in order that the preliminary work can be undertaken.
To order a consultation, please provide the following information:
Basic Details:
Your name - we like to know who we are talking to!
Physical address of proposed site - in case we have to look up the project site for further information, and so we know where to come for the physical site evaluation.
Mailing address
E-mail address - for quick and easy communication of questions as they arise in the consultation process.
Phone number - in order to contact you when we are ready to schedule a physical visit.
Specific Site Details:
If any of the following information is unavailable, it is still possible to have the consultation, however please remember, the more information you provide, the clearer the suggestions that c an be made for the best use of your property.
CLEAR photographs from all angles of the site under consideration.
Topographical maps showing elevations and contours.
Aerial photographs - For those of you considering using Google Earth in order to provide aerial photos, please remember that unless you subscribe to the service, all images are 2 years old. Please edit the images to include all alterations to the property.
Any information you can provide as to predominant wind/rain/snow directions, including where the sun rises and sets in the extremes or summer and winter.
A diagram of the soil layers we will have to work with, including soil type and layer depth. This will give us a rough idea of the soil structures on site.
Site conditions throughout summer and winter. For instance, whether water pools at any location, how dry the soil gets in mid summer, all pertinent information regarding the seasons impact on the site. This can take the form of notes or diagrams on a property outline.
Anything YOU think we should know regarding your site.
Please include any of your dreams or visions for the site. While the structure of the land tells us what the best types of Perma Culture will provide the maximum results, for the minimal input, you the Human caretaker are the one who must engage the final results. If there is any particular aspect of Perma Culture, for example a Crater Garden, that absolutely appeals to you, please let us know and we will do our best to accommodate your wishes where the land allows. We will also try to incorporate the plants that you use or love in the seed mix, so if you have any preferences, please let us know.
COST
The cost for a consultation will vary for each project, but will be based on the following units;
a translation fee, $100 (per hour)
an administration fee ($50 per hour),
Sepp's fee is $150 per hour, but will vary according to the exchange rate with the Euro.
CONSULTATION WITH MATHILDA: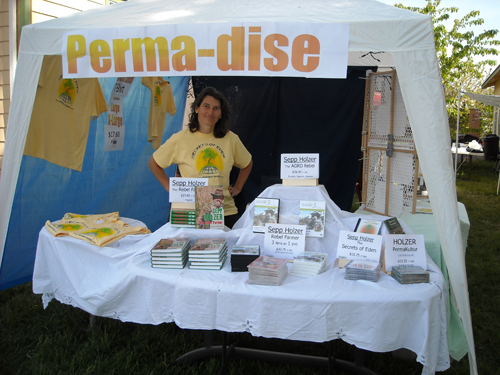 With the knowledge she has gained during classes with Sepp's daughter on her property in Austria, her immersion in the Secrets of Eden Tour earlier this year, the close contact she has had with Sepp in developing her projects, and of course, the practical experience she has gained on site in Yelm, Mathilda is able to offer the knowledge she has gained for property consultations.
While there is no one to compare with Sepp, Mathilda has gained a level of understanding, whereby she feels confident that she can help with layout and flow as well as ascertaining which features of perma culture make best use of the property features.
During her time with Sepp on his consultation 'tour' of 2010, Mathilda was able to define her ability to read the land and where which projects would be best suited. While Sepp's level of detail is still far greater, Mathilda was pleased to note she was 'on target' with her analysis every time.
Please email her at info@perma-dise.com $35 per hour